Strawberry ice cream is one my daughter's favorite flavor of ice cream. When I discovered a recipe that did not require a ice cream machine, I was determined to try it. I tweaked an ice cream recipe I found on the back of the can of sweetened condensed milk and made my own flavor.  I topped the finished ice cream scoops with caramel and garnished it with a fresh strawberry. It a delicious treat.
Follow this easy recipe and watch the how-to instructional video below.
Strawberry Ice Cream Recipe
Ingredients
2 cups heavy whipping cream
1 can sweetened condensed milk
2 cups of strawberries, diced into small chunks
Instructions
In a large mixing bowl, whisk heavy cream with an electric mixer until stiff peaks are formed.
In a separate bowl, blend sweetened condensed milk and strawberries until mixed well.
Fold strawberry and condensed milk blend into whipped cream evenly.
Transfer contents into a 2 quart bowl with a lid.
Cover and freeze for 8 or more hours.
Scoop and enjoy!
Watch this quick instructional video.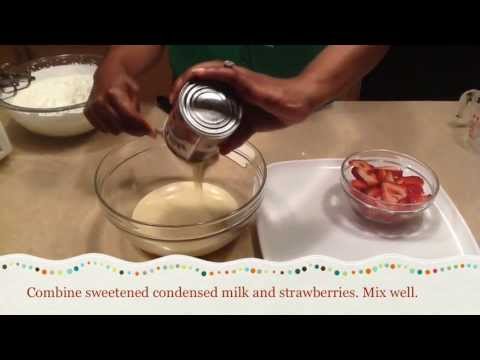 Supermomdecoded tip: The best way to learn new recipes is to try new recipes. Leave a comment below to let me know if you plan to try this. Be sure to follow up to let me know how it turned out.